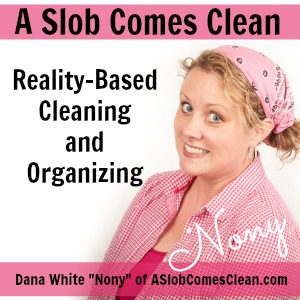 Podcast: Play in new window | Download
Subscribe: RSS
Cleaning out a home where you or a loved one has lived for a long time isn't fun. But it's reality. As my family has recently experienced, the time does come when everything has to go. I'm sharing the process we went through, and some strategies for getting the job done.
Things mentioned:
Helping Someone Downsize podcast
Wishing Someone Would Declutter podcast
Decluttering Frames (but not photos)
If you're in the Dallas area, join me for a fun event where I'll be speaking in Waxahachie, TX on Sept 19th.
Details: Chick-fil-A Ladies' Night Out!

Location:  Everly Rose Event Center 116 N Hwy 77. Waxahachie, TX

Date:   Thursday,  September 19

Time:  5-9 pm

Cost: $20
What's included:  dinner & dessert, mosaic madness frame project,  drawings for door prizes, and me speaking!
Sponsor: Get a free two week trial of PrepDish by going to prepdish.com/aslobcomesclean
Sponsor: Shop Carbona.com with code CLEAN for 20% off your order.
Sponsor: ButcherBox is offering new members 2 lbs. of ground beef every month for the life of their subscription, PLUS $20 off their first box. Just go to ButcherBox.com/slob or enter promo code SLOB at checkout.
Sponsor: Native Deodorant! – Use promo code "clean" during checkout for 20% off your first purchase.
Related Posts: