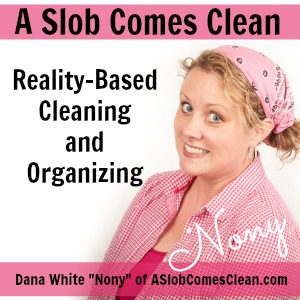 Podcast: Play in new window | Download
Subscribe: RSS
I'm so excited to be trying something new! I'm talking with Elizabeth about her unique cleaning and decluttering struggle points, and helping her with some ideas for strategies.
We talk about:
Staying on top of daily habits when your schedule is irregular.

Dealing with toy clutter when your kids are over-attached to everything.
How to handle storing seasonal or holiday decor items.
Mentioned in this podcast:
Using the Container Concept When Decluttering with Kids
My e-book: 14 Days to Opening Your Front Door to Guests – Use code NOVEMBER to get it for $5.
Sponsors:
Betterhelp.com/clean. A Slob Comes Clean listeners get 10% off your first month with discount code CLEAN.
Take 10% off by going to Trustandwill.com/CLEAN or entering promo code CLEAN at Trustandwill.com.
–Nony
Related Posts: