This post is sponsored by Swiffer and Febreze!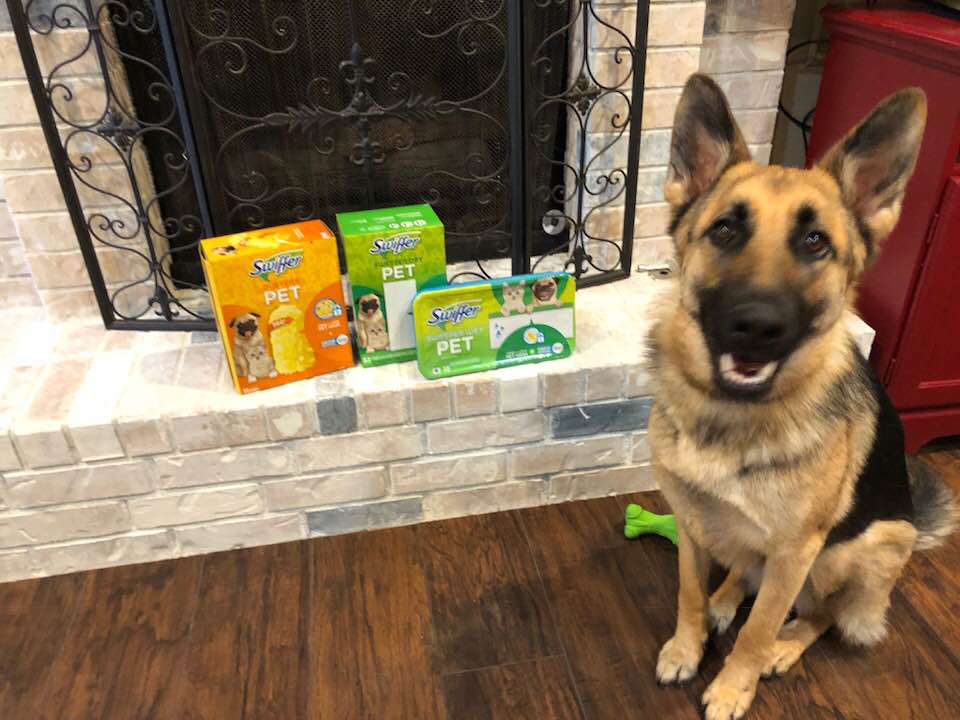 Almost exactly one year ago, on Mother's Day, this super shedder (I almost wrote "shredder" which is also true), joined our family.
My dog history is that I desperately wanted one as a child, but never got one. Tears were shed to no avail. I grew up dogless.
I did have a pair of birds at one point and while birds are nice, they are not dogs. I desperately wanted a dog.
The first Christmas after my husband and I were married, we gave his parents a puppy.
I canNOT believe we did this. Knowing my new family like I know them now, or even like I knew them a few short months after our ridiculous idea, I look back on this gift-giving decision in complete bewilderment.
Getting a dog is a big decision, mostly because it's a big commitment.
For a year after the Christmas Surprise, we were told that "Princess" would be our dog the minute we got a house with a yard.
Strangely, that tune changed right around the time we started actually looking to buy a house with a yard. Princess turned out to be one of the best things that ever happened to my in-laws. They became quite the trio, and for years, she signed our birthday cards along with my mother-in-law and father-in-law.
We did get our own dog as soon as we had a house with a yard, and I now can't imagine living without a canine family member. (See Mom and Dad?? I was right!!!)
But when we added Cinder, I found that I had a whole lot to learn about the reality of bigtime shedders.
She sheds when she runs. She sheds when she snuggles. She sheds when she breathes.
And while I'm surprised at the fact that my love for her somehow makes me okay with this, my love doesn't make the shed piles magically disappear.
And that's why I've made the executive decision that adding a little Swiffer green to my living room decor is okay.
I have two official spots for my Swiffer Sweeper. One is its "real" home in the laundry room. The other is its unofficial official home in the living room. See how it's kinda sorta hidden?
Because we have a non-stop shedder, I have accepted our reality and chosen to embrace that the only way to live within that reality is to Swiff.
Regularly. And often.
Here's the thing. With hard floors, dog hair tends to gather at the edges, up against the walls. And while tuft by tuft is the ideal way to Swiff it up, there's also the OH MY WORD SOMEONE IS COMING OVER reality. In these moments, I focus on the edges of the room.
It takes me one minute and seven seconds to do one quick glide around the edges of my living room. (Really. I timed it.) And one imperfect glide around the edges with my Swiffer Sweeper is enough to make me feel so much better about letting someone inside.
I mean, they can't expect much if they're a last minute self-inviter and I'm me, but getting the mega-tufts Swiffed up makes a shocking difference in how I feel about my living room.
But still, it's nice that Swiffering is silent, to keep my shed-problem a little more secret in case I'm still dealing with it as they're standing outside the front door.
Also, it's important that I remind you of a few of the key things I've learned in all my Swiffer studies. First, change Swiffer Sweeper refills when they stop working, not when they look dirty. The sweeper pads can go longer than you'd think. Second, the top of the Swiffer Sweeper's handle isn't slippery. It's made to be able to stand up against the wall, so it's secure in that small corner.
And the Swiffer Pet refills that include Febreze also help me feel better about the reality of dog scent.
That, plus a quick spray of Febreze Fabric Pet Odor Eliminator on Cinder's favorite spot on the couch allows me to open the front door without panicking over pet mess.
You don't have to fear shed filled pet messes with the help of the Swiffer Sweeper and Dry and Wet Pet Refills with Febreze Odor Defense that Trap + Lock or Swiffer Dusters and Heavy Duty Pet Refills which you can find at Kroger.
Tell me about your fur fighting strategies in the comments to be entered to win a $50 prize package of Swiffer products! Continental U.S. only (sorry!), must comment here on the site, giveaway will close May 23, 2019 at 9 p.m. Central. Winner must respond to my email within 48 hours or I will have to choose another winner. See all my giveaway policies here. 
–Nony
Related Posts: