Summer break has arrived!
I love summer. I don't love the heat, but I love the change in routine.
If you've been around a while, you know that I take summers off from blogging and podcasting. I know for a fact that it has "stunted my growth" as a blogger/podcaster, but it has saved my sanity as a mother.
I'll take sanity any day.
I love that giving myself permission to not think about the blog for a couple of months frees up brain space to focus on other things. It's like decluttering my mind.
While I'm gone, here are some recommendations to help you keep going on your own deslobification process:
I'm going to use my own affiliate links to my books, FYI.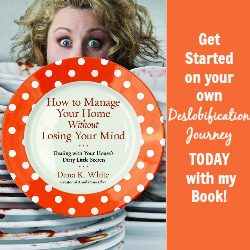 My Books –I wrote How to Manage Your Home Without Losing Your Mind as the guide for the overwhelmed home manager. If your home has you on the verge of tears, wondering why what seems so easy for "everyone else" is so hard for you, you'll understand why you feel this way and what to do to change after you read that book. Both of my books are available wherever books are sold, in any format in which you like to read books: audio, paperback, digital.
Decluttering at the Speed of Life dives deep into decluttering. Really deep. I talk about the mindset changes needed to make real change, teach you my five step decluttering process, and apply the process to the different areas of your home including . . . craft rooms. And storage spaces. I also tackle a subject I avoided for years: helping others declutter. There are chapters on helping your kids, friends, husband, and older relatives. I also spend a lot of time on the intensely emotional challenges related to clutter.
Audio versions of both books are available.  That link will take you to my shop, and you can look at all versions under the "my books" category. (Note: You do NOT have to be a member of Audible to get an audiobook through them. You can purchase individual audiobooks on Amazon and use the free Audible app to listen. Look UNDER the orange button at the right of the page. I know it's confusing. To be even more confusing, I suggest you look at the Kindle price as well and see how much it would cost to add the audiobook when also buying the Kindle version. It varies, but sometimes can be almost the same price as the audiobook to get both.)
Check your local library for my book(s). Most major (and many smaller) library systems carry copies of my books. If yours doesn't have them, ask them to get them!
If you need visual help to understand my decluttering process, I created a video course called: The 5 Day Clutter Shakedown.
I've loved hearing from many of you who watched it with family members and experienced great success because you were finally speaking the same decluttering language. The course also includes audio-only files and written transcripts of each video to help those with different learning styles and varying internet capabilities.
Maybe this is the time for you to read this blog from the beginning. If you're feeling that familiar yeah, but feeling every time you gain a little hope from reading my site because you've failed so many times before, reading the real time process will help.  I explain how to read from the beginning here.
Teaching Kids to Clean ebook is a curriculum for teaching your kids basic cleaning skills.
Maybe it's time to figure out why people are crazy about podcasts. They are free, you listen (like the radio, but whenever you want), and you can clean while you're listening. Go here, click on a title that sounds interesting to you, hit the play button on that post, and you'll hear my voice come out of your computer.
Follow me on Instagram. That's where I'll post real time updates.
And most of all, be sure you don't miss a thing by signing up for my newsletter here.  The newsletter is the one thing place where I keep writing over the summer.
Have a wonderful summer!!
Related Posts: