Over the weekend, I shared on Instagram a set of pictures of some decluttering that I did in 31 minutes.
I know it was 31 minutes because I took the before picture, so I had a time stamp to compare to the after picture.
The feedback on the photos made me realize I should share them here, too. Especially since Instagram stories are only up for 24 hours.
In addition to clappy hands and happy faces, I got comments like: You really are a pro.
And "Wow." And "31 minutes?!? I am so impressed!" And "this is why you're famous."
Now, I love compliments as much as more than the next lady, but I felt a little bad about these.
I wasn't racing the clock. I didn't even break a sweat.
I just did the Easy Stuff. One easy thing at a time until the space I'd been avoiding for two years was clear(er).
Here on the site, I can explain more. So I will.
The Backstory
This clutter-catching space (ideas are forming on how to eliminate it) was too inviting when I needed to get everything out of the room when we had our floors replaced two years ago this summer.
Two. YEARS.
I used to have a tall bookshelf next to this popular-in-the-1980s wetbar. (The house was built in '79, so it was very trendy in its day.)
I have to assume that when I emptied the bookshelf, the nearby flat surface was too tempting to resist.
And I had to put the books somewhere.
It was justifiable. Having your floors redone isn't normal life. Having to clear everything out of a room does require temporary spots for things.
Really. It totally does.
The thing I can't justify is the "two years ago" part.
I decided not to bring the original bookshelf back into the room. Moving everything out helped me realize I like the room much better with less stuff.
I had placed a screen in front of this space, so technically, it wasn't quite as big of an eyesore as it could have been. But I knew it was there. I'd looked at the space many times, felt overwhelmed, and chose to ignore it.
But on Saturday, I moved the screen. I took a before picture (even though I didn't want to), and I grabbed a trash bag.
Since the vast majority of the mess was books, it was mostly a matter of moving them to the new (bought from a friend who was moving), small bookshelf eight feet away.
There was some trash and a few Duh Donations.
Really, the only thing I had to ask my decluttering questions about were the cobalt blue margarita glasses. And those were up on the shelves, not even in the piles.
When my brain started swirling with "But we don't even drink" followed by "but they're my favorite color" I had to stick with what I know.
If I was looking for margarita glasses, where would I look for them first?
There's no answer because I wouldn't look for margarita glasses.
They needed to go. I did experience the "but they're so pretty" twinge, so I took a quick picture and posted them in a local Facebook group for $10 for the set of 8 glasses.
(I semi-dusted two for the picture.)
I went ahead and stuck them in the Donate Box, though.
The big blue crate of Homecoming mum supplies (it's a Texas thang) was moved into an open storage space in the spot where our little bar fridge used to be (before it leaked and ruined the floor we ended up replacing).
31 minutes after I started (thank you timestamps on phone pics), I had this: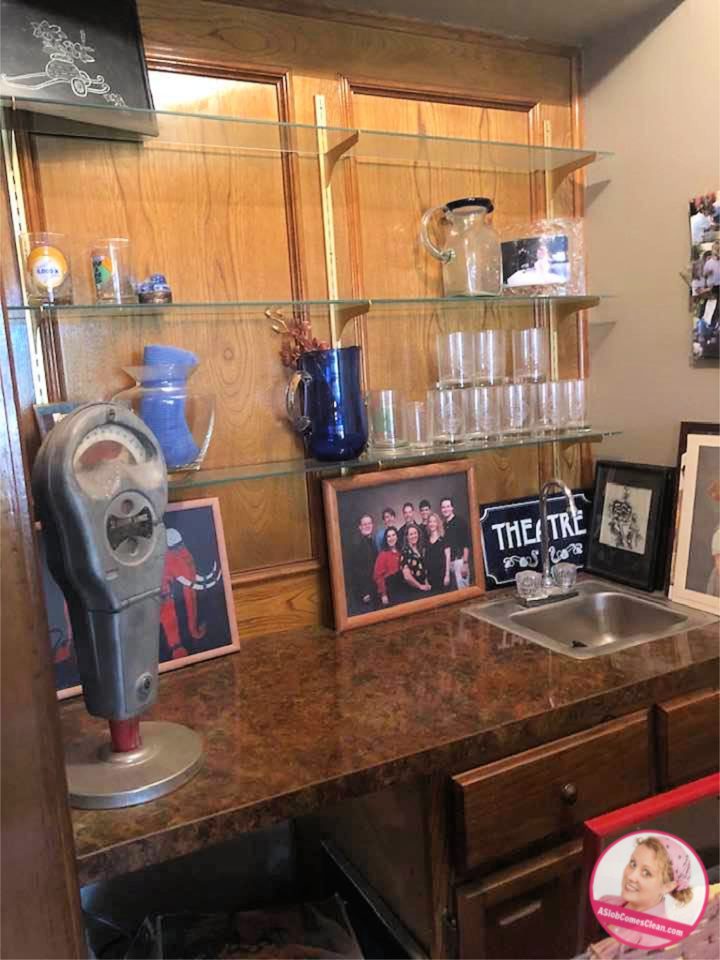 So much better. No screen needed.
A few extra over-explanations:
I hadn't had any response on the margarita glasses after a few hours, so I removed the post. I just wanted to see if they would be easy to sell. In my experience, if an item I post for sale on Facebook doesn't get responses immediately, it is unlikely to ever sell.
I'm not stating that as absolute fact, but it's how I do things. I knew I wasn't going to keep them. I'd have loved to get a little cash from someone who would adore them, but my goal was to get rid of them. Not to make money.
Since they were already in the donatable Donate Box, deleting the post meant I was done with those glasses.
I have made the conscious decision not to store things in the hopes they'll make me money someday. I don't have the space or the Clutter Threshold for that.
Have you taken any before pictures lately?
A few related things:
Just last week, I shared the reasons why it's so important to take a before photo.
Here's a post about my experience selling things on Facebook, and here's one about how I've changed my perspective on selling things at all.
If you're overwhelmed at the thought of decluttering, get my book: Decluttering at the Speed of Life. In it, I teach you how to declutter in a way that lets you make progress (and only progress, never a bigger mess) in whatever amount of time you have. You can make decluttering progress in 5 minutes, 5 hours or 5 days. And it's written from the perspective of someone who has spaces like this in her own home . . .
In a newsletter last week, I shared another post with before and after pics of this same space, where I grasped the value of "better." I guess sending out that newsletter reminded me I needed to work on this space again. (You can join my newsletter for free here.)
If you are on Instagram, you should follow me there. I don't post constantly, but it's so easy to put up quick pics like these.
–Nony
Related Posts: