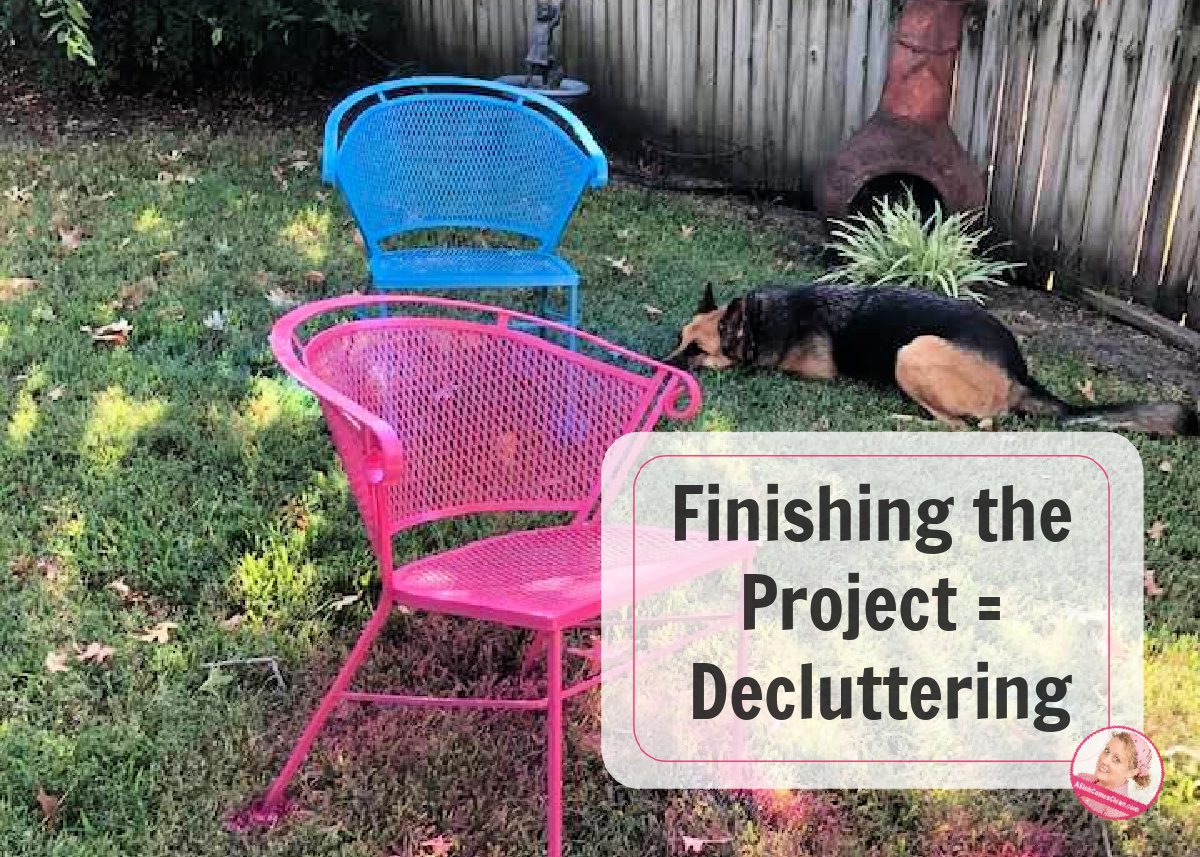 As we've been cooped up in our home, I've been thankful for the outside space we have.
As we've spent more time outside, I've put a little more work into our yard.
I saved up and bought a new outdoor dining set after eating many Spring of 2020 backyard dinners  on a folding table and the same metal patio chairs I sat on as a toddler.
But I didn't get rid of the old chairs when I got the new ones. 
My mom gave me these metal chairs when we moved here (fourteen years ago), after she'd used them for (at least) three decades . . .
They were on my parents' patio back in the 1970s, and while they were fine for sitting, they weren't pretty.
After I got the new patio furniture, I put them around the firepit.
And I worried they were clutter.
Did I really need them? Should I keep them?
It was Classic Clutter Drama.
My main issue with them was that they were ugly.
That early morning photo doesn't show their ugliness properly. My son painted them green, years ago, as a good project for an 8 year old. They used to be bright yellow. Now they were a little of both.
Here's a closer up look at one:
Then, I remembered a friend's outdoor furniture that she'd painted in various bright colors.
I had no faith that I could pull off cute-and-quirky the way she does, but I decided it couldn't hurt to try. The chairs couldn't get uglier.
And as long as I didn't like how they looked, the question of whether I should really keep them weighed on my brain.
I bought spray paint. My daughter and I picked out four fun colors. I bought two cans of each color just to be sure I had enough (plus two more for another project and some candy), and the total cost was right at $40.
I did my bestish to scrape off any paint peels and clean them up, and then I spray-painted the four chairs.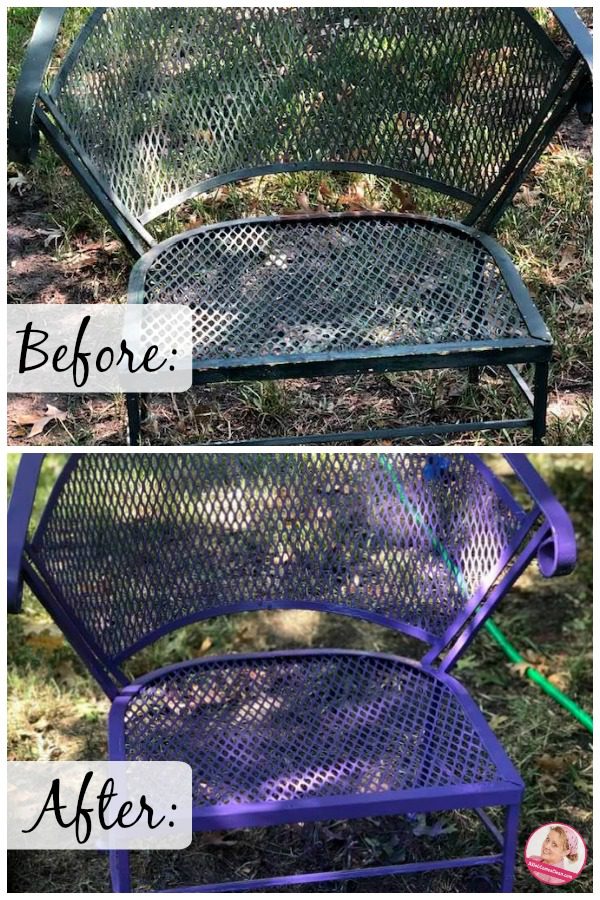 $40 was money well spent. Less than two hours of work over two days (it gets hot FAST so I only worked on them early in the morning) was well worth my time.
I had fun, and now they definitely aren't clutter. I love them so much. The weight on my brain is gone!
Here's why I count painting these chairs as decluttering:
While the chairs were maybe-keep-maybe-nots, they were clutter.
Once they were heart happy-fying pink and purple chairs, they were perfect. And definitely not clutter.
The action of getting the paint, shaking the cans, and spraying the chairs made them not clutter anymore because the decision was made and no longer weighed on my brain.
That's decluttering.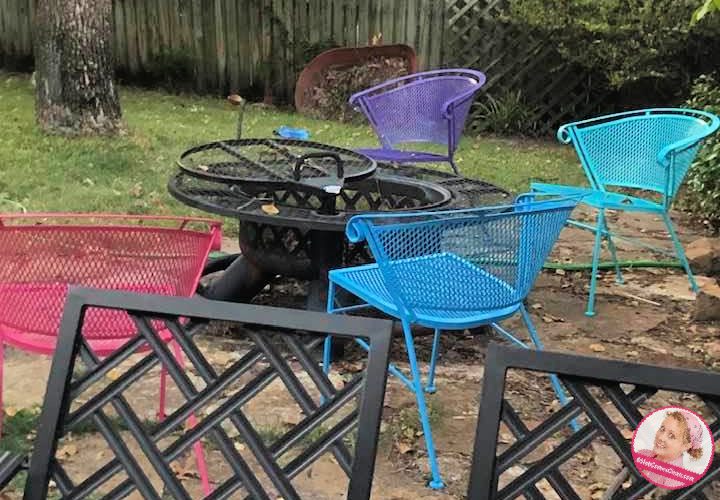 Finishing a project achieves the same purpose as decluttering.
And all it took was a little spray paint, a few hours of work, and fourteen years of angst.
That's too dramatic. The angst probably only lasted about five years. Maybe seven.
Have you finished any projects lately that you can count as decluttering? 
Here's a post from last spring about this idea of finishing projects as a form of decluttering: Finish The Project and Call it Decluttering!
Here are two posts about the work I've been doing in our yard (while knowing almost nothing about how to do yardwork properly): Decluttering? Take the Before Picture! and Help: How it Happens and How to Accept It
A few notes about the post:
My dog isn't (just) being cute. She's sniffing the paint on the grass as hard as she can sniff it.
Yes, that's a wheelbarrow that filled with dirt over the years, turned into a weed garden, and eventually fell over when its leg rotted. I didn't even see it until the before photo. And then again in the after photo.
Yes, my hanging plants died a sad, dry death.
Yes, the chiminea is sitting right next to its stand. I have no idea why.
I'm sure there are other things I could explain. Just remember I'm no gardening or decorating blogger.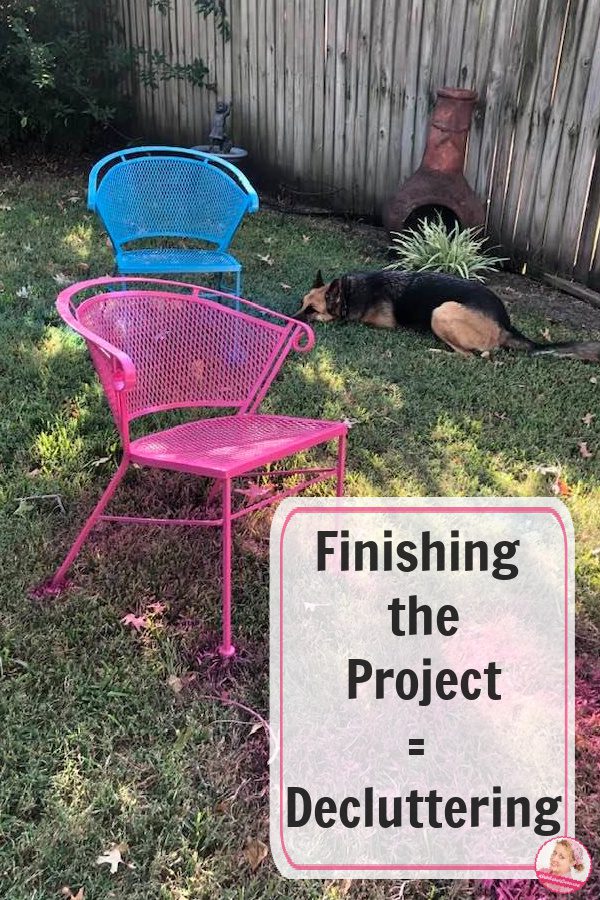 –Nony