I absolutely love this email I received from one of you!
Just a warning that the first part is totally a recommendation to grab the audio version of my book. But that is how SHE opened the letter, so it's not like it's ME trying to convince you to get it!
I love hearing from people who declutter while they listen to my book about decluttering! 
The very best way to understand how my style of decluttering works is to get to work, so I love that audiobooks let that happen!
But even if you skim over why she likes my book, read from the third paragraph on. Her in-the-moment understanding and application of The Container Concept made me giddy!
I've tried other books, and the writers were well-meaning with some "Oh I've been in your shoes I'm messy all you have to do is set your mind to it and do exactly what I say every day because heck it worked for me when my house got messy that one time."

But this time instead of sitting down and spending time reading a book about cleaning, I listened to your audiobook, while I cleaned.

I was actually being productive while taking it all in! And . . . the container thing.

Yesterday, while cleaning up all my kids' Christmas presents, I thought, "I'll go to Walmart and get some cute tubs to put all this stuff in! They'll have all the new designs out!"

I drove all the way to the store, filled a cart with nice new clear bins . . . and then it hit me.

I don't need containers for all this stuff.

I have a games shelf for games.

It's full but there are probably 10 old ones that I bought at garage sales that literally no one has ever bothered to play. I can donate those to make room for the new ones.

The kids (7, 8) got new books, but I don't need a container to put their baby books in to store them until I have grandkids. I need to get rid of some of their other ones to make room for the new ones.

Well, I walked right out of that Walmart with a pack of tortillas and not a single bin! I wasted an hour of my day but I saved my house from another $50 worth of bins that I don't need.

I packed the books into laundry baskets and took them to Once Upon A Child. I got $200 for them (there were a lot of books) and took the leftovers to Value Village.

This was a long winded THANK YOU, but, thank you!
Need help decluttering? My book, Decluttering at the Speed of Life, will teach you everything you need to know to make progress (and never a bigger mess) in your home. It's available wherever books are sold in whatever format you prefer to use (paperback, digital, audio). Learn more here.
There's also a lot of free information here on the site to get you started. Learn more about that here. I have recorded more than 200 podcasts!
And not free, but on sale right now, my video course, The 5 Day Clutter Shakedown, is half off through the 31st! Find out more here.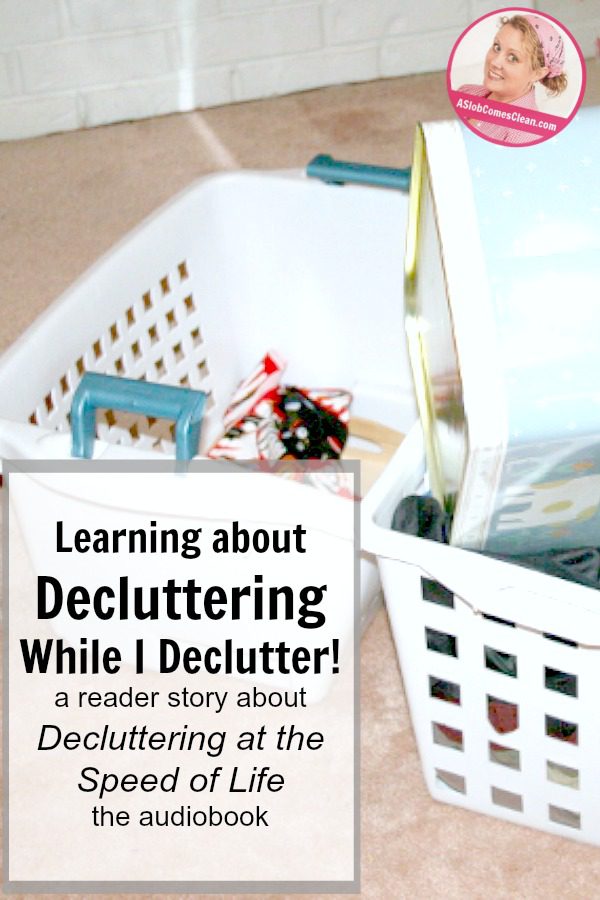 Related Posts: