I love this email from Amy. I experienced something very similar to what she did when I started getting the clutter out of my house.
I wanted to send you a quick thank you note for the impact your books have had on my life. We are a family of five living in a small, inner-city home. I've felt overwhelmed for the last few years wondering why I could never stay on top of life and why my pleas to my family to "help" were always insufficient. They couldn't help because they didn't know my intricate systems for cleaning, donating, selling and putting away. As a result I have really resented my home. We purchased it five years ago after renting it for three and I often asked myself "Why on earth did you even buy this house? It's too small!" With adding another family member, pets and a pandemic-induced influx of STUFF, it had gotten completely out of hand.

However, since decluttering —really decluttering —and establishing good systems for housecleaning, not only am I loving my home but I'm reminded why we wanted THIS house and not many of the other ones that were larger and less expensive. I was reminded this home meant my husband had a short commute so we see him more. I was reminded I wanted less square footage to keep clean. I wanted less things and natural boundaries to contain them. I wanted our home to be a place where we ate and slept and did math at the kitchen table but otherwise we were out doing things—building community, taking classes, hiking, etc. I wanted a home I knew we could easily pay for and could sell should our job situation change.

The plan had never been to be home and cleaning it all day! My little home purchase was to give us freedom and instead I had turned it into an overstuffed, overcluttered space that took all my time to maintain. I'd lost the vision of what exactly it was meant to be and what it could be again.

So I sincerely thank you for helping me to love my home again and for recalibrating and realigning my vision. I don't just have a cleaner and better-maintained home, I have a love for it and its purpose again.

Warmest regards,

Amy
Do you have my books? My newest one, Organizing for the Rest of Us, is the short and sweet collection of all my best strategies.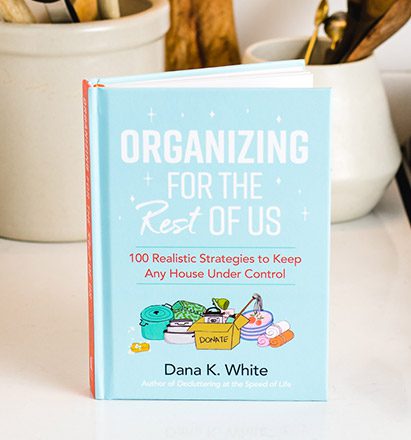 Related Posts: