Last September, I started working on a 14 day course/plan that teaches my method of getting dinner on the table quickly and with minimal stress. It was an idea I'd had because people had asked for something similar to my 28 Days to Hope for Your Home, but for getting dinner on the table.
(28 Days and a chapter about my meal prep strategy are in How to Manage Your Home Without Losing Your Mind)
I finally finished the course last week! I'm calling it: Make Dinner Happen.
It isn't fancy or the least bit cool. It's just embarrassingly practical.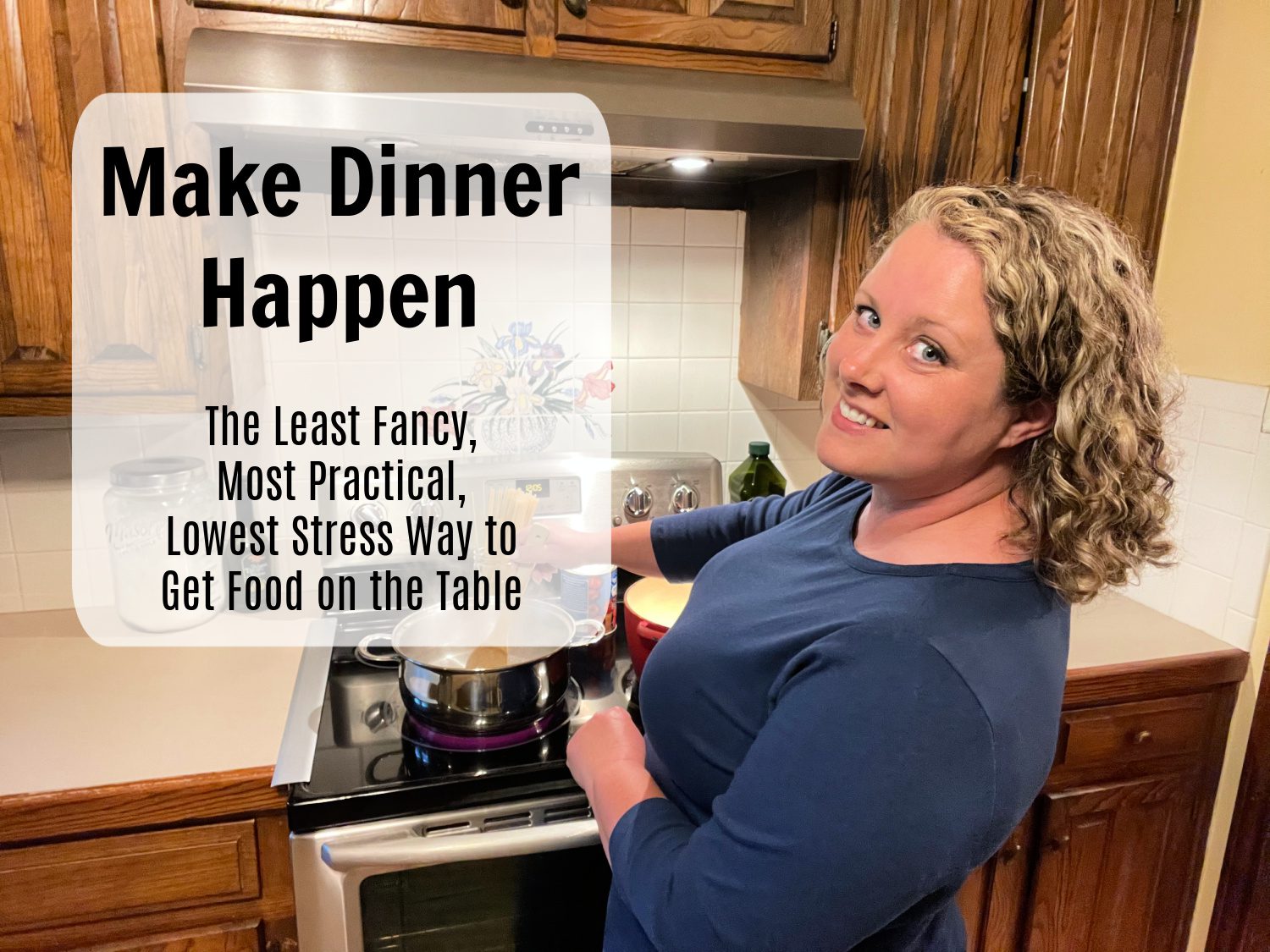 If you've read my blog posts on pre-cooking and freezing ground beef and chicken breasts, you know how that allows me to make dinner quickly and without a mess. I've shared lots of recipes using these tricks, and I use my pre-cooked meat A LOT when I use meal planning services to make those nights go super quickly.
But since I know that there are a lot of people out there who can like the idea of something but get overwhelmed when they hear, "Just do this! It's easy!" I thought I'd embrace my teaching style of breaking things down to the super basic step by steps on this subject, too.
My goal is that this two week course (that includes a shopping list, recipes and a "let's cook together" video for each meal) will make you feel comfortable and competent in the kitchen, no matter your prior skill level. Whether you need to uncomplicate your method of getting food on the table or you are starting from a place of complete overwhelm at the thought of cooking, I believe this course will be helpful to you.
In the first two days, you cook the meat for the whole two weeks while you make dinner for those nights. At the same time. That first night (the ground beef) will be the one that takes the longest of any night (chicken is easy because it goes in the slowcooker), but even that night takes only about an hour and a half total. And the hour and a half includes eating dinner with your family while the beef for the rest of the two weeks cools so you can package it up.
Then, the next 12 meals will be so fast! The two week plan is arranged to use up all your fresh ingredients early on so the meals using frozen vegetables are at the end of the two weeks. So, technically, you wouldn't have to go to the store for two weeks if you were only shopping for dinner time.
And, honestly, most people (especially someone who hasn't been cooking regularly) isn't going to eat a home-cooked meal every single night for fourteen days. So even if you go out a few nights or eat leftovers (or cereal) a few times, your ingredients for the last meals will last a long time in the freezer.
This fourteen meal plan would last our family at least three weeks.
In the videos, I give you tricks for adjusting recipes according to your family's tastes. I also tell you which ones are perfect to adjust for a crowd or serve after a very long day or stick in the oven to be ready when you get home from gymnastics.
My goal is that after I walk you through this style of cooking the meat (and rice) ahead of time so you can make dinner quickly and with minimal mess in the future, you'll feel confident applying these time-saving concepts to whatever meals you like best.
To prove these meals are unfancy (and to lower any unrealistic expectations). I'm sharing the list of fourteen meals and the ingredient list. Don't buy this $16 course if you want vegan or gourmet recipes.
If you do (already) make your own spaghetti sauce and cream of mushroom soup from scratch, but want to learn the style of cooking that lets you get dinner on the table quickly on a busy night, I think you'll learn from this course. You can use your own homemade versions of the ingredients listed and be fine.
If you don't (already) make your own spaghetti sauce and cream of mushroom soup, I'm not going to teach you how in this course, and I'm going to advise you to go ahead with the jarred or canned versions for now. The beauty of learning this style of cooking is that you will free up time so that in the future you CAN take the time to make your own spaghetti sauce because the rest of the meal goes so quickly.
Even though I intended to get this course finished MONTHS ago, summer is a great time for it because this style of cooking is perfect for unpredictable days, and learning a new thing is great for this out of routine season.
Recipes for the following meals are included:
———-
Porcupine Meatballs (made from ground beef, not actual porcupines) in "Mushroom Gravy" over mashed potatoes, Pesto Chicken over Pasta, Alfredo Chicken Spinach Pasta, Chicken-Rice Bowls, TexMex Casserole, Taco Soup, Chicken Salad Sandwiches, Sausage and Hashbrowns, Taco Salad, Shepherd's Pie, Skillet Lasagna, Chicken and Noodles, Chicken Fried Rice, Pizza Casserole, Roasted Asparagus, Oven-Baked Corn, Roasted Broccoli, Parmesan Pull-Apart Bread
If you wouldn't eat four of those recipes, I still think you'll learn enough that the course will be worth it. If you wouldn't eat six or more, I would skip it.
Ingredients for the recipes include:
———-
Chicken Tenderloins, Ground Beef, Smoked Sausage, Tomatoes (optional), canned tomatoes, Broccoli, Carrots, Asparagus, Refrigerator Biscuits, Croissant Rolls or French Bread, refrigerator crescent rolls, Butter, Shredded Cheddar and Mozzarella Cheese, Sour Cream, Eggs, Rice, Pasta, Instant Mashed Potatoes (or homemade if you already make them regularly), Spaghetti/Marinara Sauce, Alfredo Sauce, Rotel, pesto, Cream of Mushroom Soup, Chicken Stock, Mayonnaise, Ranch Dressing, Ranch Dressing Dry Mix, Frozen vegetables, hashbrowns, Taco Seasoning, Chicken Bouillon, Minced onion and garlic.
If there are ingredients you despise, I talk a LOT about leaving out things you don't like, as we are pretty picky eaters.
And of course, if you decide it isn't helpful for you, you have 30 days to ask for a refund.