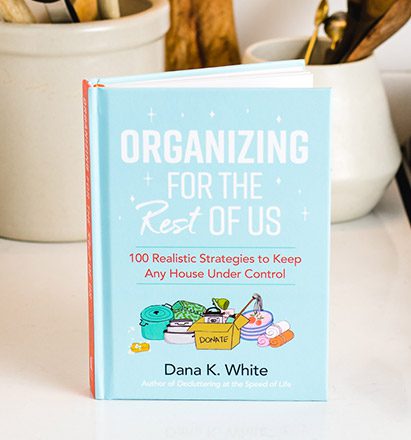 So I wrote another book, and it's releasing January 11th!
Organizing for the Rest of Us: 100 Strategies to Keep Any House Under Control is a hardcover gift book. That means it's pretty! It has pictures and a ribbon bookmark and I love it.
So what makes this book different from my last two books? While the other books were 60,000ish words (EACH) of me hitting daily tasks and decluttering and mindsets from every possible angle and pre-answering all of your other people's excuses, this one has my strategies listed out succinctly in tip format. It includes tips that haven't been included in the other books and tips that I've never shared before.
And . . . there are photos. Color photos.
For example, I share my five step decluttering process with photos to show how the clutter diminishes and the space gets better with each step. One glance will show we're talking about actual clutter.
Dishes Math is explained with photos that will hopefully help you get it if you haven't gotten it before.
And if you've wanted to give my book to someone but worried they'd be offended, I can't promise they won't be, but this book is far more giftable than the others. I requested that the cover say "Dana K White, author of Decluttering at the Speed of Life" instead of "Dana K White, creator of A Slob Comes Clean."
I mean, it's, like, 50% more giftable with that one change, right?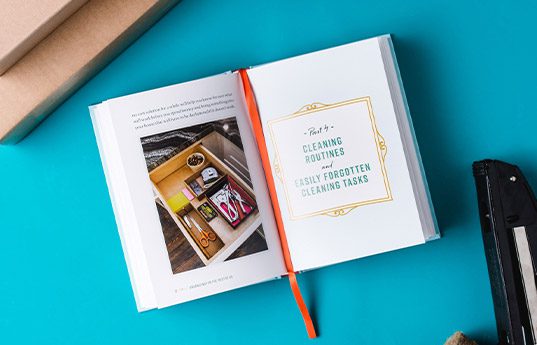 And it's flipthroughable. I believe that's one of the biggest values of this book. Flip to the part about kitchens and quickly read some strategies that will make your kitchen easier to manage. Glance through the strategies for bathroom cleaning and say (out loud if you want, I won't judge), "Oh, I could totally do that!"
Pre-Order Now
Organizing for the Rest of Us comes out a month (plus one day) after I'm publishing this post. If it sounds like a book that would be helpful to you, go ahead and pre-order now!
Why pre-order?
Pre-ordering lets you take action now so you don't have anything to remember to do later. (That sounds like a lot of what I teach around here, right?) Most of the time, pre-ordered books arrive on release day, so it will just show up in your mailbox or on your e-reader or in your audiobook app or you'll get an email (or text or phone call or whatever they do) from your local bookstore saying they're ready for you to come pick it up.
Pre-ordering lets bookstores know that this is a book they should put on their shelves. I know this isn't actually a benefit to you personally, but it goes a LONG way in getting the word out about this book which will help more people know there is real hope for the hopelessly messy.
If you pre-order AND fill out this form with your pre-order information, you get some bonuses. As a thank you for pre-ordering the book (from anywhere in any format), you will get a printable pack and you'll be invited to attend a live Zoom Q&A/hangout during release week. I will hold three Q&As. One will be in the evening (for me), one in the morning (for me), and one in the afternoon (for me). I'm doing three sessions at different times so that hopefully one of the times will work for you and your timezone/work schedule.
Now for some answers to questions I will get if I don't pre-answer them here:
Can I get the bonuses if I get the audiobook? 
Yes. You can get the bonuses if you pre-order ANY format of the book (audio, digital/e-reader, hardcover) from anywhere that lets you pre-order (local bookstores, online retailers, international retailers where available, etc.). Just look for your order number to include on the pre-order form. It's likely on your confirmation email or in your account if you've already pre-ordered. If you can't find it, email us  and my assistant will help you figure it out.
Will the printables be included in the package with my book when it comes? 
No. All pre-order bonuses are digital, and I handle them. The book is a regular book which is sold by regular book retailers, "anywhere books are sold." From the bookseller, you'll just get the book. I send out the bonuses based solely on this form that you have to fill out with your purchase information. If you don't fill out that form, I have no way of knowing that you pre-ordered the book.
Can I buy the book directly from you? 
I know people ask this because you are being supportive and looking to do what's best for me. I appreciate that so much! However, the mutually beneficial relationship between the author and the publisher and booksellers ultimately takes a book SO MUCH further than I could ever take it on my own if I sold it directly to you. Also, I don't like mailing things.
Can I get a signed copy? 
Y'all. I did this last time and had every intention of doing it again. But to do it, I need to work with a local bookstore here in Dallas. There are only two independent bookstores that I know about, and one said they'd do it, but has never given me a link to share with you. The other hasn't replied to the email I sent when the other one never sent me the link. I know places are overwhelmed, so I'm not taking it (totally) personally. If you REALLY want a signed copy, email me. Maybe if I can give them an actual number of people asking for a signed copy, I can get their attention.
If flipthroughability is key, which version should I order? 
This is tough. Because this book is flipthroughable and colorful, I do believe the hardcover is the best version of it. BUT that doesn't mean there isn't great value in the ereader and audio versions! I read the audiobook version, and I think it went really well! I adjusted to explain what needed explaining so you won't be missing any information! And hey, if a pretty little flipthroughable book is laying around, maybe someone else in the house will flip through it. And laugh. And learn something. Maybe.
So go pre-order and then fill out this form to claim your pre-order bonuses!
If you want to know more about the book and see a list of some places to pre-order, go here.
–Nony