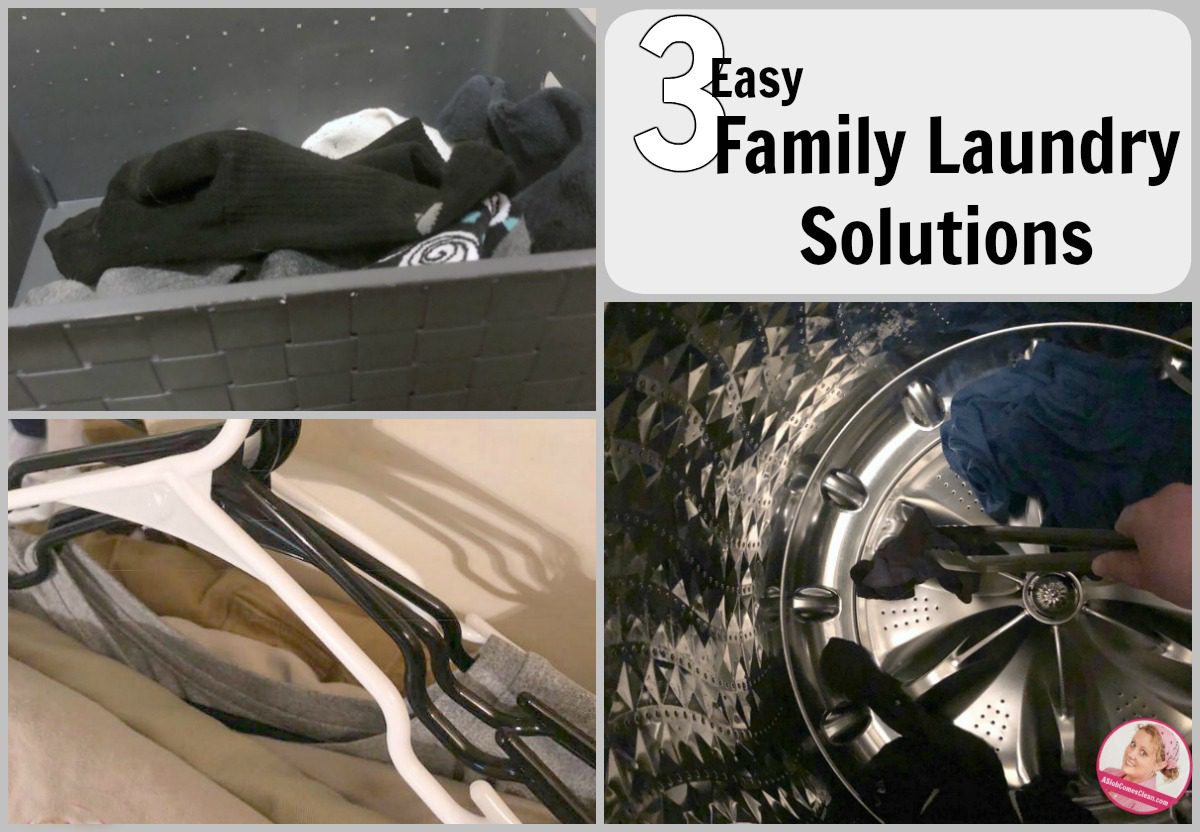 This post contains referral links. Any purchases you make after following those links help to support this site. 
Our family laundry schedule keeps me sane. Weekly Laundry Day has had a huge impact on our home and on my sanity, and works better for our family than any other laundry routine I'd ever tried.
And I'm pretty sure I tried them all.
But today, I'm sharing a few laundry hacks that will make your life easier. Each of these three easy family laundry solutions remove a specific stress/irritation from my laundry life.
Yay for removing stress.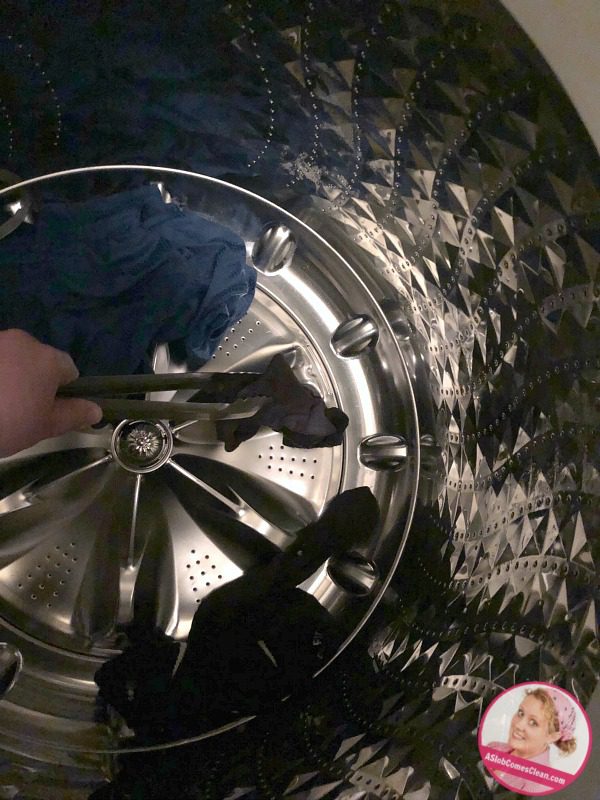 My favorite three easy family laundry solutions
Laundry Tongs
Yes. You read that correctly. Laundry Tongs are a thing.
Technically, these tongs weren't made for laundry. For years, I used them to flip chicken breasts and such. But then I got a large capacity washing machine. A large capacity washing machine is great because I can wash a large load of laundry, but that means it's deep. Like, really deep. So deep that even at my somewhat average 5'5ish" height, reaching those last few socks in the bottom of the washing machine was a struggle. I had to stand on a step stool to give myself enough height to bend at the waist and reach the bottom.
And the step stool would randomly disappear.
Or random clutter would block the place where the step stool needed to go.
Someone here in comments mentioned that they used tongs. LAUNDRY TONGS. Truly brilliant. They make my life so much easier that I stuck a Command hook on the wall of my laundry room and declared those particular tongs to be Laundry Tongs forever. I didn't love them for cooking anyway since the attachment that keeps them closed was long gone. I do think it's important that Laundry Tongs are smooth (as opposed to some of our super long BBQ tongs that I tried to use once) since I don't want anything snagging my clothes.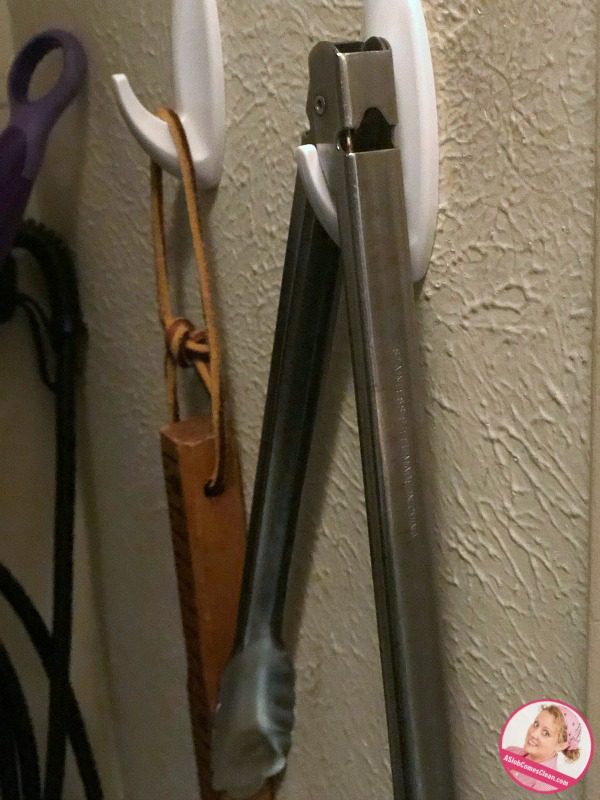 I use those Laundry Tongs on every single load. I love not having to grunt and twist and turn to get to the very back of the dryer for that last sock.
Yay Laundry Tongs.
The Family Sock Bin
This is our newest family laundry solution that is rocking my world in a very good way.
I was so tired of sorting socks. My children's mom (that's me) isn't the best at having any conscious awareness of when (or where) her socks leave her feet, and she (me again) has passed this cute and quirky quality on to her (my) children.
This means socks are never going to be pinned (or clipped) together. I was lucky if both socks ended up in the same load.
For years, we placed socks on top of the dryer as we pulled them out, matching them up as their mates came out. But sometimes the mates never showed. And sometimes a sock or six tumbled onto the floor of the laundry room where I noticed them a week later and wondered whether they were clean socks that had tumbled there or dirty socks that had wandered there.
None of us liked this method.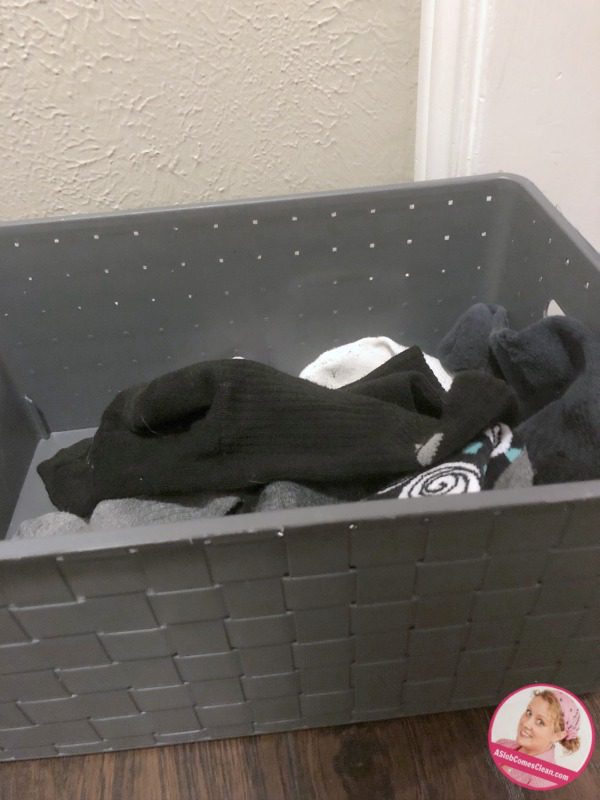 I bought a storage basket and made it the Family Sock Bin. 
Now, socks go straight into the Family Sock Bin as they come out of the dryer, and the Sock Needer digs to find two that match (or not) as needed.
I can't even express how much low-grade, not-really-in-my-consciousness-but-totally-there stress this has removed.
How does the family like it? One kid said he always wondered why we didn't do this (BIG EYE ROLL FROM MOM ON THAT ONE), another said he liked it better when matched socks magically appeared in his drawer (HEAVY SIGH FROM MOM, BUDDY), and another is supportive but felt the need to be clear that she did not agree with what I said when I shared this  idea on Instagram. I said, "I like it and they like it" . . . but she does not like it like it.
Hubby? Oh. He is a Conscious Sock Taker Offer and makes use of zipped laundry bags to keep his socks together all the way through the wash. Though I feel the need to note that his obsession with using this method to keep up with his personal socks only came about after four other feet in our house grew hairy and man-sized and started stealing his socks.
Color Coded Hangers
I've shared this one before. It deserves to be included in this list because it continues to work so well and make life so much easier that I often wonder how in the world I didn't think to do it sooner.
Each kid has an assigned color of plastic hanger.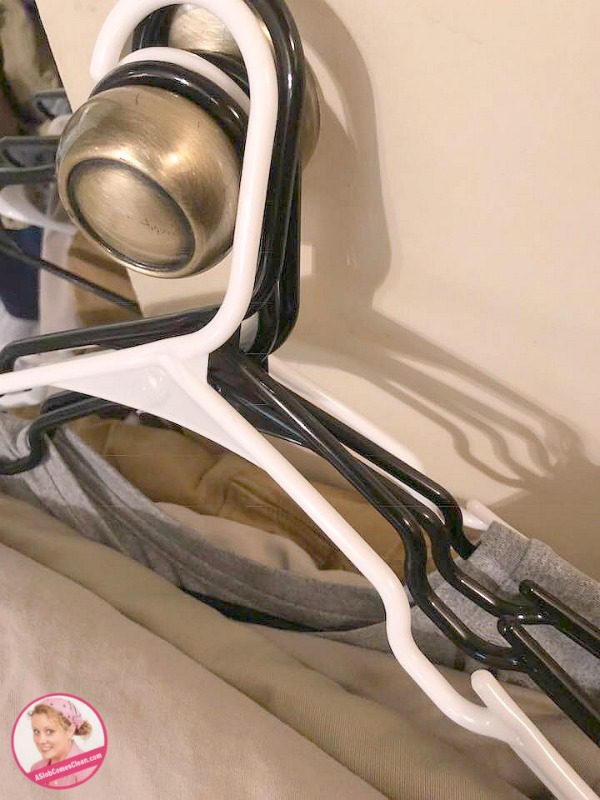 We hang school clothes, but school clothes all look a lot alike since our school district has "standardized dress" rules.
Using color coded hangers, clothes only have to be checked for size one time as they come out of the dryer. People can easily grab their own stuff to go put away without having to shift and search and send clean clothes falling to the floor.
I grabbed colored hangers for super cheap during back to school (dorm supply) time, but here are some on Amazon. 
Now that I've shared my favorite three family laundry solutions, please share your best laundry tips!
If a laundry routine is your biggest struggle, I understand. Here's a post explaining how I came up with a laundry routine that works great for our family. Also, there are TWO chapters on my laundry routine in my book: How to Manage Your Home Without Losing Your Mind.
–Nony
Related Posts: