Hoover sent me three products to try out and is sponsoring this post. The opinions and the messes are mine, though. All mine.
Sometimes timing just works out so well.
It's spring, which means cleaning just feels "right" even though cleaning doesn't technically have a season.
I recently received three cleaning tools from Hoover to test out in my home.
The ONEPWR Blade Max Cordless Vacuum Kit
The ONEPWR FloorMate Jet Cordless Hard Floor Cleaner Kit
The SmartWash+ Automatic Carpet Cleaner
I've had so many opportunities to use these tools in real life situations since they arrived last week.
Oh-so-real life.
When I opened the boxes and put them together, I had no idea how many opportunities would present themselves.
My first impression was that all of the Hoover cleaning tools were very easy to put together.
When I opened the box for the HOOVER ONEPWR Blade Cordless Vacuum, I thought assembly might be difficult because it had quite a few attachments. But putting it together took all of about a minute and a half. A few snaps, and it was ready to use.
The ONEPWR FloorMate Jet Cordless Hard Floor Cleaner Kit and the SmartWash+ Automatic Carpet Cleaner were even easier to assemble.
So what were these "opportunities" to see how these Hoover products worked in our home?
We had Family Cleaning Day last week. It was the day when the house would normally be cleaned. People were home, so people got to help.
My son volunteered to vacuum using that "new thing we got" and he really liked it (as much as a teenager can like vacuuming). He liked not having to worry about a cord, and he did an excellent job. Though, honestly, I giggled a little that he vacuumed like he mows, straight lines back and forth.
He learned that "ECO" mode works best on carpet and makes a significant difference in how long the battery lasts.
While others were working on the rest of the house, I worked in the kitchen. I used the ONEPWR FloorMate Jet Cordless Hard Floor Cleaner Kit to clean my kitchen's tile floor. I was pretty excited about this one.
Really? I could really do the sweeping and the mopping in one step? Really? Yes, really. It kind of felt too good to be true. But then it wasn't.
I filled the self-explanatory container with water and the cleaning solution that came in the package. This FloorMate vacuums both dry and wet stuff at the same time, and there's a nifty button right inside the handle to spray cleaning solution.
It works! Random bits of solid stuff on the floor got vacuumed up at the same exact time the floor was being "mopped." Dog hair, bits of paper, a splinter of wood . . . all those were vacuumed up at the same time that spots and splatters were being cleaned away.
I was so excited. Like, overly excited.
Finally, I tried out the HOOVER SmartWash Carpet Cleaner.
I didn't do an entire room, but I did use it on the high traffic areas of my bedroom carpet to see how it works.
I really like it. The best way to describe it is: easy.
There is no switching around between washing and drying. That happens automatically without finagling. Go forward to wash, pull backward to dry.
Yay for the elimination of finagling.
The machine even tells you which you're doing by lighting up the words "wash" or "dry" as you're using it.
But wait. There's more.
I had more opportunities to use these machines in the past few days.
Opportunity #1: We decided to try fixing a problem with our fridge. This meant pulling the refrigerator out from the wall. That meant a reality-check about the dust back there. It's usually hidden and beautifully ignorable.
I grabbed the HOOVER ONEPWR Blade Cordless Vacuum and started cleaning. It made quick work of the ridiculous amount of dust bunnies.
This "opportunity" also let me try out several of the accessories. I snapped off the more traditional floor vacuum attachment, and snapped on the one that let me get into all the corners of this excessively corner-ey space without having to climb behind the fridge. Or bend over.
I then used this attachment to easily clean the inside of the side wall. Taking a picture was harder than getting the dust.
Opportunity #2:
Do you ever get in the zone when you're loading the dishwasher and not notice that a coffee cup you grabbed was actually semi-full of coffee? No? Oh. Well, I do. More often than I'd like to admit.
But then I remembered my ONEPWR FloorMate Jet Cordless Hard Floor Cleaner.
This was after one swipe:
I used the button on the handle to squirt the cleaning solution and clean up the rest. That part of my kitchen tile floor is now cleaner than it was before I spilled/slung the coffee.
And again, I didn't even have to bend over.
I could go on sharing opportunities I had to use these products (like Hubby's homemade barbecue sauce that "exploded" all over the floor), but instead I'll share some unique features that I really like:
The two ONEPWR cordless products have battery charging stations that are separate from the products themselves.
You charge the batteries, not the tool itself. The version of the ONEPWR FloorMate Jet Cordless Hard Floor Cleaner Kit that I received came with two batteries, so in total I have three batteries and two charging stations for two products.
In the past, I have found myself frustrated with other rechargeable products because I didn't have a good place to store them that was near a plug.
With the Hoover ONEPWR products, I don't have to. Both chargers fit easily in this spot.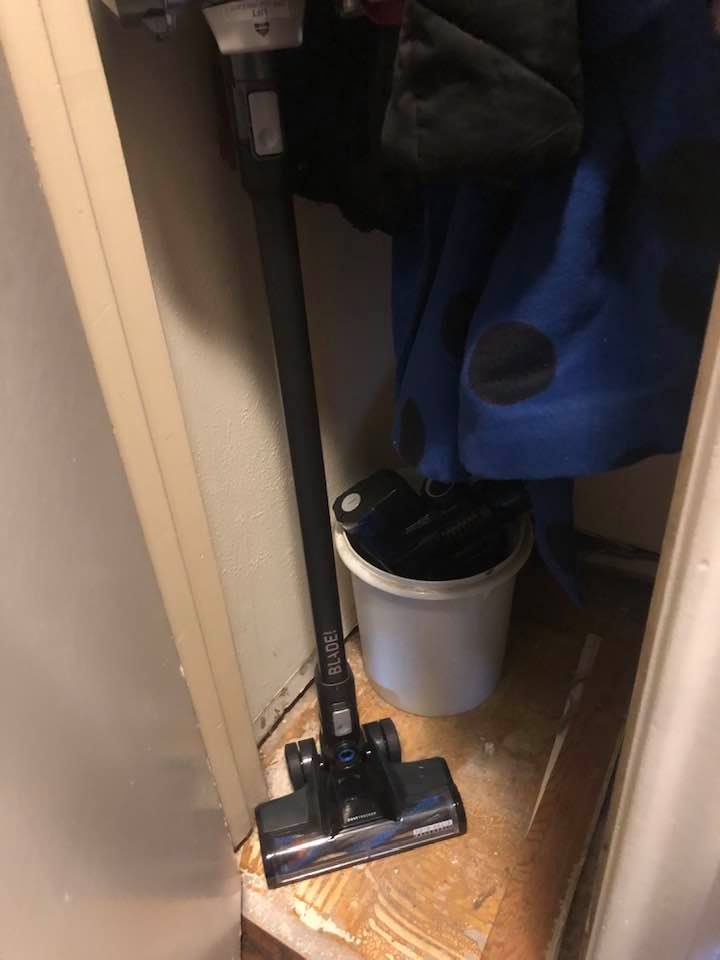 The HOOVER ONEPWR Blade Cordless Vacuum fits in my tiny (unfinished) hall closet along with a small tub for its accessories. And the ONEPWR FloorMate stands upright so it can be hidden from sight in my breakfast area.
The Blade Cordless Vacuum above doesn't stand upright on its own when put together as a floor vacuum because it's top-heavy. It could easily be stored in its handheld vacuum form.
I also like that the batteries are interchangeable between the ONEPWR products. I always have one battery charging and ready to go when another runs out of power. I love that I can just switch out the battery and keep cleaning. I don't have to stop working to charge the actual vacuum.
I really appreciate all of the instructional stickers and quick start guides on the products.

A little tip that works for me (but would probably drive some people crazy): I leave the instructional stickers on until I am completely confident that I know how to make full use of a product's features.
At least three different times while working these cleaning tools into my regular cleaning tasks, I referred to those stickers. They showed me how to empty the canister on the Blade Cordless Vacuum, how to clean the  FloorMate Jet properly, and more.
How are the Hoover Floor Cleaning Products fitting into my normal life?
These Hoover cleaning tools have proven extremely useful. They've made my cleaning (and my cleaning-up-after-accidents) life easier. I highly recommend all three products, but both ONEPWR tools are quickly climbing to the top of my can't/don't-wanna-live-without list.
These products and more are available at www.Hoover.com, www.Amazon.com, and select retailers nationwide.
The winner was notified and did respond! So yay!
And . . . I'm so excited that Hoover has offered to give one person who comments on this post their choice of one of the three products I shared in this post! Seriously!
To enter, all you have to do is be sure you're following Hoover EITHER on Instagram or Facebook, and then leave a comment on this post letting me know which of the three products you would choose if you won, and why you would choose it. Go to Hoover.com to learn more about the products!
You do have to live in the USA.
The product is provided by Hoover, not by me, and will be sent directly from them to the person whose comment is chosen.
The winning comment will be chosen at random using random.org.
You need to use an email that you check regularly. The email won't be shown publicly and won't put you on my mailing list (you can sign up for my newsletter here if you want it). It needs to be an email address you check regularly because that's the email I'll use to notify you if you win. And if you do win, you have 48 hours to respond. If I don't hear back from the winner within 48 hours of my email, that person forfeits the prize and I have to choose another winner. I HATE doing that, so please check your email! Also check spam because I can't be held responsible for my email going to your spam folder.
This giveaway will close on April 6th at 9 p.m. Central time.
See my giveaway policies here. 
–Nony
Related Posts: